April 26, 2019
Posted by:

American Association of Automatic Door Manufacturers

Category:

Architects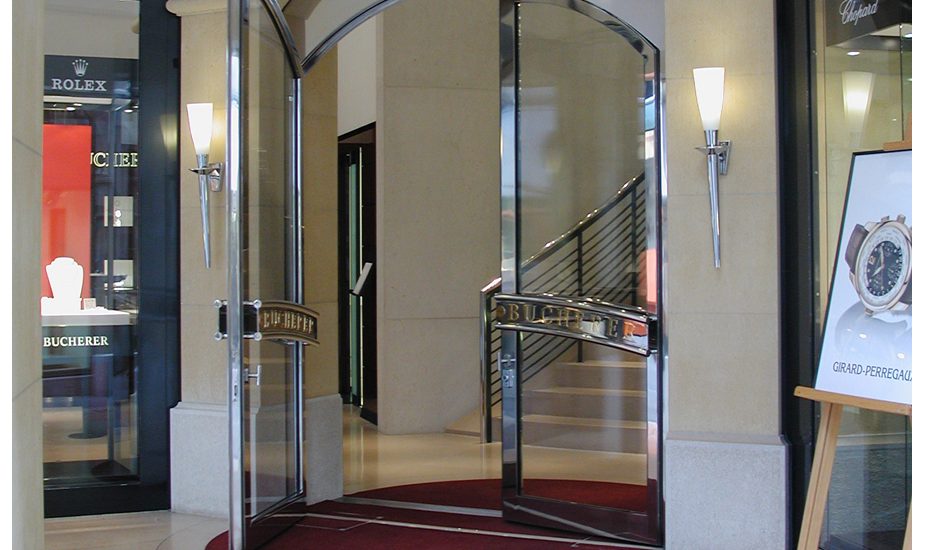 CLEVELAND, OHIO – February 15, 2013 – As the demand for the convenience of automatic doors grows, architects and door manufacturers all around the world are finding creative ways to incorporate automatic doors into many different building styles, even historical buildings. You'll find self-opening doors within arches, tucked between stone columns, mimicking window styles, and more. Incorporating a custom finish and framework takes the door far beyond the typical sliding automatic doors at your local grocery store.
The need for automatic doors on buildings with older architectural styles is often found in historical buildings in downtown city centers and tourist areas that have heavy traffic flow. Automatic doors provide a needed upgrade that allows entrances to handle large numbers of people, while still keeping the original design of the building intact. As an example, an automatic door was designed for a historic railway station in Hungary that was originally designed by famed French engineer Gustave Eiffel. The door had to meet many rules to maintain the integrity of the building's architecture.
Automatic doors also work well with contemporary applications whether added as part of a renovation or as part of the original design. An entryway is often the main focal point of building design, and automatic doors can bring added bling while welcoming entrants. As an example, the red color and circleslide door to PricewaterhouseCoopers in Breda, Netherlands, commands attention at the entryway.
Architects also use automatic doors to complement the architectural style of a building by including existing building framework around the door, and by mimicking building windows. In these ways automatic doors can blend easily with the building design, creating consistency between doors and windows. Blending architectural details can create a cohesive look and can make high-tech doors fit a more traditional design. Additionally, window paneling can be manufactured to breakout for emergency access, giving this design a dual purpose.
Automatic doors are a viable option for most any shaped entrance whether historical, modern, grand or intimate. Adding an automatic door adds convenience for patrons and uniqueness to any design.
For more information about automatic doors and advice in choosing the right door for your design, visit the American Association of Automatic Door Manufacturers at http://www.aaadm.com.